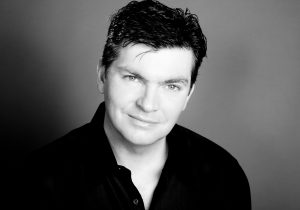 James Kilbane is now a multi-platinum selling Christian, gospel, Celtic country and Irish folk singer. James Kilbane was the runner up in Ireland's national talent television show You're A Star in 2003 / 2004. Since then he has established his career with his mix of gospel, Christian, country and folk music.
James has released a new album of all his family hymns and songs titled THE FAMILY COLLECTION. This album is released in association with VERITAS Publications Dublin. The album has 20 of some of James' best recordings on one album. All tracks feature hymns or songs with a Christian family message. The Family Collection in available in all VERITAS shops and Veritas.ie and other religious shops across the country. You can also download or stream the album Spotify, Apple, Amazon and other internet sites.
"We're a touring band," says percussionist Ryan Lacey, who joined the lineup in 2003. "That's how this band works. Matching Sweaters is one of the most complete albums we've done so far, because it taps into every facet of our live show."
Since his success in You're a Star, Kilbane has gone on to record and release a number of well received albums including King of the Road, Close to You, Hymns of Praise, Divine Love, Life's Miracle, Heart to Heart, Glory and Grace, Songs Of Ireland, River of Grace as well as his Christmas album titled The Christmas Collection. In March 2012 he released his ninth album Gravel & Grace. Songs of Faith, Life & Hope. The album was launched at Lorain Correctional Institution, Grafton Prison in Grafton, Ohio, USA following an invitation extended from the institutions inmates to James to give a special concert at the prison that took place during St. Patrick's week 2012. The Gravel & Grace album includes many popular songs and previously released radio singles. Many of Kilbane's albums are Nashville and Irish collaborations. One of these projects was in 2008 he released on his fourth Gospel album Heart to Heart was a new anthem for the House of the Virgin Mary titled "Mary's House, Our Lady of Ephesus". Mary's House is located at Meryem Ana Evi, Ephesus, Turkey.
In March 2013 James released his first compilation album and was released in association with Veritas Publications in Dublin and Gold Eagle Music titled The Songs of Faith Collection. Veritas are Ireland's leading Christian publishers and retail group for religious publications, media and goods. The album was released to celebrate the Year of Faith and presents 20 tracks giving a flavour of 200 years of Irish Christian and faith based music that many have held dear in prayer and in their spiritual lives. In 2014 Kilbane released his first faith concept album 'River of Grace'.
In March 2015 Kilbane with Gold Eagle Music and Veritas Publications released the album Mary: The Lord's servant. This work is a mix of traditional and contemporary songs drawing on Scripture and prayer to highlight aspects of the life of Mary the mother of Jesus Christ. This album collection is of 25 recordings that spanned Kilbane's first twelve years of Christian studio work. There are many well-loved hymns as well as contemporary songs that honour Mary's story and memory. James has also included a selection of hymns about Mary that were part of his childhood and teenage years as well as a new recording, 'If Jesus comes tomorrow, what then?' The album also features verses sourced of Sacred Scriptures in which we hear the voices of the ancient prophet Isaiah, the Gospel writers St. John and St. Luke, and strains of the Book of Revelation. James worked closely with his Faith Director the Rev. Dr. Ken Newall. In 2017 James worked again with Veritas Publications, Dublin to release 'The Family Collection' for the World Meeting of Families that took place in Dublin, Ireland in August 2018.
James Kilbane is not a conformist and has not always aligned his work or beliefs to the usual practices of the Irish music industry. Grand Ole Opry legend George Hamilton IV bestowed Kilbane with the title "The Lone Ranger of country music" after hearing his music and story. Kilbane has experienced most of his success through working in an independent manner through the label Gold Eagle Music. Independently he has been able to explore and develop alternative music project ideas to great success. For a number of years Kilbane was mentored by the double Grammy award winning and music legend Steve Popovich Sr. of Cleveland International Records. Popovich took a keen interest in Kilbane's career and contributed a great deal of knowledge and advice to Kilbane's development and to several of his album releases. Over the years Kilbane has worked with other leading music, media and production personalities as Gavin Murphy, Bill Shanley, Maire Breathnach, Ciaran Byrne and James Blennerhassett.
In 2012 Kilbane was voted "Irish Gospel Singer of the Year" for his music and work. In June 2012 James and his country band were invited to perform a selection of his Country Gospel music as part of the 50th International Eucharistic Congress in RDS Arena in Dublin, Ireland. Kilbane continues to contribute to other major religious events in Ireland which include major events at the international shrine of Knock. He has been involved in Irish cross border religious music events and projects. He continues to record and tour at home and abroadworking with Irish and international festivals in the United States. Since 2016 James has been involved in television work with RTE but also Keltic Country television company. With Keltic Country James recorded 28 one hour shows for the broadcasting company on Gospel music. As well, for 8 years James was a leading member of the cast in the hit Irish Celtic Summer stage show "The Legend of Grainne Mhaol"until it ended in 2016.
Durning James' formative years he now knows that he struggled with education due to Dyslexia and did not complete his education in second level. However, as a adult James learned to type and studied to earn the oppertunity to study in third level and became a Heritage and Cultural honours graduate. In third level James' research went on to contributed to several heritage publications that include the book "Traditional Coastal Boats of Ireland" published by Collins Press. Since 2016 with Hotel Westport in County Mayo, Kilbane has help create a unique Christian based holiday of cultural, relaxation, heritage, environment that give the option of a new holiday experience called 'Spirit and Soul Holiday'. The holiday runs 3 times yearly in February, June and October from the Hotel Westport base.
James has many other interests, however since 1992 sheep farming has been an enjoyable part of his working life alongside his music career. Farming keeps him connected, balanced and earthed. It can be a joy and is very social in his life. James is married to Christina and this Christmas they will celebrate their 30th wedding anniversary. They have two children Diana and Daniel both in their late twenties and early thirties. Diana qualified in Fashion and Business and she now lives in Sydney, Australia where she works in the fashion trade there. Daniel is qualified in Industrial Plumbing and is also now a Quantity Surveyor living in Galway and working in Ballinrobe, Co. Mayo. Christina and James are so happy for their children. James has built his music and life alongside being committed and involved continuously with his family that he would never take for granted. Over the past 15 or so years James has kept his music carreer on his terms that worked alongside his marraige and family life. This he believes did not suit potenial agents or managers something Kilbane is happy to live with.
Later in 2019 James plans to return with his studio team to complete several recordings that will become radio singles and part of a future album release. James has also released country and Gospel singles to radio over the years. Over 25 country singles heve been released since 2003 and plans are in progress to release many of these great country songs on a compilation album later in 2019. There are plans also for more television work in December 2019 alongside Irish and American dates in 2019 and 2020. Busy times ahead.